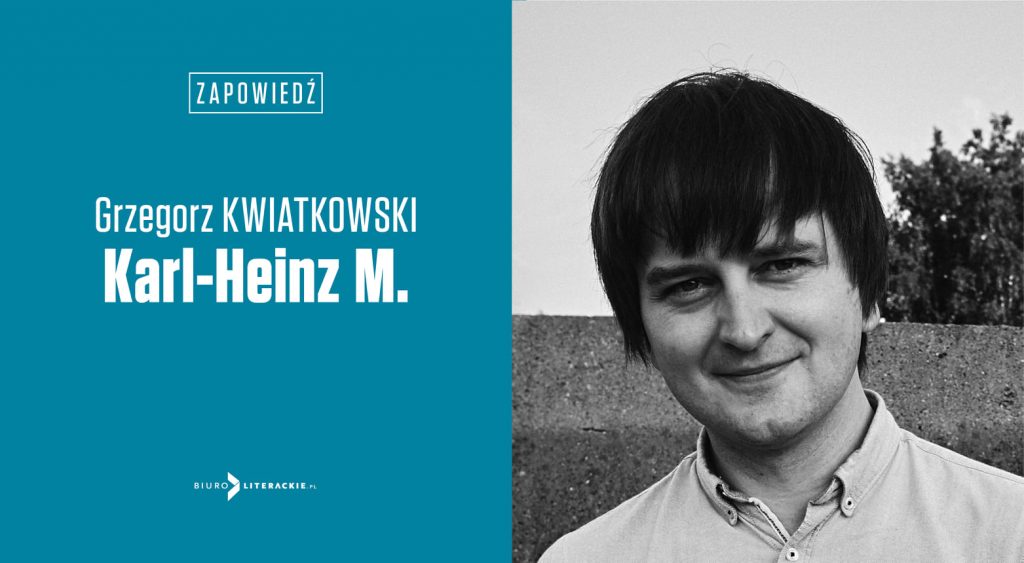 Jeszcze w tym roku nakładem Biura Literackiego ukaże się premierowa książka Grzegorza Kwiatkowskiego "Karl-Heinz M.". Będzie to już czwarta publikacja autora w wydawnictwie ze Stronia Śląskiego i Kołobrzegu. Wydanie zbioru wierszy zbiega się z jesienną premierą płyty "Of The Sun" zespołu Trupa Trupa, którego członkiem jest Grzegorz Kwiatkowski.
Wydany w 2017 roku tom "Sową" domknął trylogię, na którą składają się również zbiory "Radości" (2013) i "Spalanie" (2015). W książce "Karl-Heinz M." autor kontynuuje strategię prowadzenia poetyckiego notatnika o sytuacjach granicznych i skrajnych w duchu "Obrazów mimo wszystko" Didi-Hubermana i "Umarłych ze Spoon River" Edgara Lee Mastersa.
Nowy zbiór Grzegorza Kwiatkowskiego, który zadebiutował w 2011 roku trylogią "Powinni się nie urodzić", w pewnym sensie przenosi nas z terenu historii na obszar tragedii domowej i pytań o antynatalizm. W książce "Karl-Heinz M." odnaleźć można także głosy ofiar eugeniki, projektu T4, tragicznych rozbitków "Shoah" Claude'a Lanzmanna.
Autor równolegle rozwija zagraniczną karierę zespołu Trupa Trupa, który współpracuje z Glitterbeat Records, Lovitt Records, Sub Pop Records, Moorworks, Blue Tapes and X-Ray Records, Ici d'ailleurs, Anteną Krzyku, a także własną karierę poetycką za sprawą publikacji w takich tytułach, jak "Modern Poetry in Translation", "New Poetry in Translation", "Poetry Wales", "Tidskriften Kritiker" i "Lichtungen".